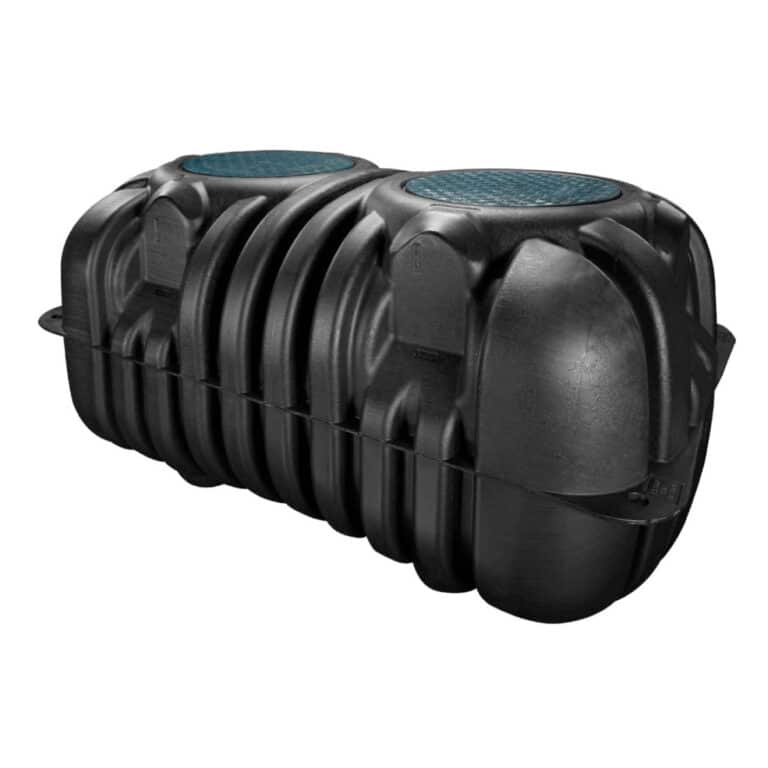 Roth MultiTank®
The Roth MultiTank® is the first tank of its kind. It can be used for water cistern, pump, holding, rainwater, or septic tank. This is possible due to its special construction of an inner layer of FDA approved virgin HDPE, two inside layers of PE for improved stability, plus one outer layer of black and UV-stabilized PE. Not only is it special in terms of its construction, but it also has the best warranty the industry has to offer: lifetime corrosion protection and 5 years of labor insurance coverage (see warranty for more details).
When used as a Potable Water Cistern, also known as a Rainwater Cistern tank, it is used for storing rainwater collected from a roof or other catchment area. Cisterns are sometimes used for storing hauled water but are usually used as a supplement to other water sources. Cisterns are very useful when the regular source of water for a farm or rural home becomes low in dry periods of the year.
Low-profile: Less digging, avoid high-water table
Lightweight vs. concrete: Installers can handle without special equipment
Heavyweight vs. poly: Strongest tank on the market
Multi-port inlet/outlet: Convenient field piping, enter/exit tank on ends or sides
2 – 24″ manways: Easy access for maintenance and service
Poly construction: Lifetime corrosion protection and Industry first 5 year labor insurance coverage
Dual-purpose: Use as a septic, pump, holding or rainwater collection tank
Rugged construction: Use of native materials for backfill (no clay)
Cylindrical shape: Absolutely no water required for backfill, saves time
Threaded riser system: Easy installation, no screws or assembly
Environmentally Sound – Watertight, corrosion resistant and FDA approved construction
Versatile – can be used for water cistern, pump, holding, rainwater or septic tank
Heavy Duty – Designed to perform under tough conditions
Code Compliant – Meets or exceeds state requirements and NSF 61
Installer Friendly – Easy handling and multi-port inlet/outlet pipe configurations
Safe & Secure – Sturdy, lockable, threaded cover and riser system
Low-profile high-performance design
Convenient and watertight threaded access riser system
Includes connection gaskets and threaded manhole covers
No water required during backfill process
Lightweight Design
A Perfect Concrete Alternative
CSA, NSF and IAPMO Certified
High Strength Engineered Resin
Patented COEX-4 Multi-Layer Co-Extrusion Process
Best warranty the industry has to offer
World's Strongest Plastic Septic Tank on the Market
Industry Premier Warranty
Roth Multitank Accessories
Riser – need image
24″ I.D. Riser
Maximum versatility in the field
Watertight connection
Extra-strong flat-top design
Unique anti-slip surface
Easily secured against unauthorized entry
Excellent for riser retro-fit or cast-in
The heavy-weight champion of riser systems! Designed to provide safe and dependable access to your onsite wastewater treatment tanks, whether cast in concrete or retrofitted to an existing tank. Engineered with high-density polyethylene and gasketed watertight connection. The Roth S.T.A.R. system is the quality solution to your access riser needs.
Septic System Distribution Box – need image
The Roth STAR Monster D-Box is the only distribution box you'll want to carry. The STAR system is engineered with U.V. resistant high-density polyethylene and a gasketed watertight connection. The new design offers ease of installation with outlets exiting in four directions.
12-Hole Distribution Box
Quick & easy pipe seals secured with threaded nut
New design allows parallel pipe runs on 4 sides
Invert drop of 2″ between inlet and outlet pipes
24″ I.D. provides plenty of elbow room during installation, leveling and maintenance
Basin can be weighted with aggregate to maintain level
Bring to grade using the STAR Threaded Riser System
Includes a STAR-24L (threaded lid), gasket and security seal
PLUG COVER – need image
Maximum versatility in the field
Extra-strong flat top design
Unique anti-slip surface
Easily secured against unauthorized entry
Excellent for riser retro-fit
Gasket and two security seals included
Fits all major manufacturer's 24″ pipe
TANK ADAPTER – need image
Retrofit – Add a ready-access riser system to existing septic tanks
Round or Square Openings – Cover up to 24″ corrugated pipe or Roth's STAR 24″ Threaded Riser System
Stay-Put System – Secure mechanically and/or with a sealant to prevent shifting and maintain integrity
Complete From Top to Bottom – Finish the job with Roth's STAR Plug Cover… the industry's best
Looking for Technical Information?
Be sure to visit our Downloads page for technical information and literature for MultiTank and the rest of our products!
Find a Rep
Find your local Roth sales rep.
J.M. Hasick & Associates
Roth Heating Division
Roth Lubricant Division
Roth Wastewater Division
Notes: British Columbia, Yukon Territory, Alberta, Northwest Territory, Manitoba and Saskatchewan
---
250-860-3613
TD Sales
Notes: Bakersfield South
---
760-635-3495
Sharp Environmental
Notes: Ontario and Atlantic Canada
---
613-220-9987
Ten Point Sales
Colorado
Utah
Wyoming
New Mexico
---
303-233-3883
VSA, Inc.
Louisiana
Texas
Mississippi
---
214-353-0765
Mid-America Sales
---
515-758-2956
Mersch Budco & Associates LLC
Notes: Northern California, Northern Nevada
---
650-566-9260
New Horizon Sales
---
602-437-4795
RepCo Sales Agency
---
503-663-0618
Output Sales, Corp.
Ohio
Pennsylvania
Indiana
Notes: Western Pennsylvania, Ohio and Indiana
---
724-334-5600
H2O Reps, LLC
Notes: Georgia and Eastern Tennessee (excluding Nashville Metro West)
---
770-295-9736
Integrity Sales
---
863-581-0687
Pro-Source Sales
Maine
New Hampshire
Vermont
Connecticut
Massachusetts
Rhode Island
---
203-329-1315
Cadco Marketing
Delaware
Maryland
West Virginia
Virginia
North Carolina
South Carolina
Notes: Eastern Panhandle West Virginia
---
804-337-9864
Issacs Consulting
Notes: KY and Western Tennessee (Nashville Metro and West)
---
270-524-3690
Other Locations
Roth Heating Division
Roth Lubricant Division
Roth Wastewater Division
Notes: Other Locations
---
Please contact your regional sales manager.
David Gooding, Inc.
New York
New Jersey
Pennsylvania
Notes: NY, NJ and Eastern PA
---
781-760-8199