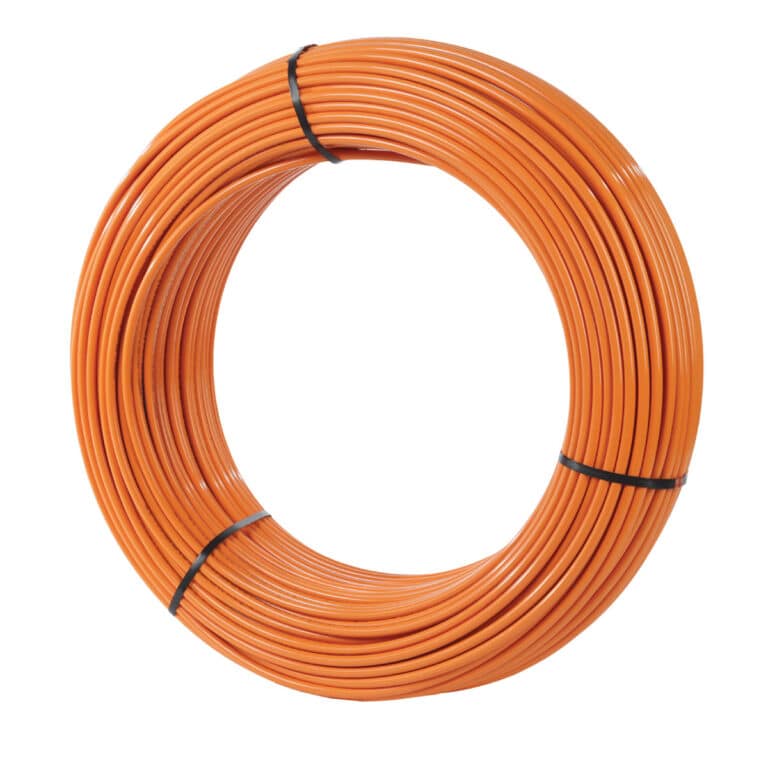 X-PERT S5® Radiant Tubing
PE-RT pipes have been used in European markets for more than twenty years with exceptional results. Roth X-PERT S5® pipe is made with DOWLEX™ 2344 Polyethylene Copolymer Resin, which offers the traditional benefits of polyethylene resin along with excellent high-temperature resistance. The result is the next generation of radiant heating pipes. Roth X-PERT S5 pipe delivers excellent long-term hydrostatic design strength, without the need for cross-linking. This increases flexibility, resulting in potential installation savings. Roth X-PERT S5 also has excellent surface smoothness for improved flow properties and is produced using state of the art equipment.
The five-layer pipe consists of a layer of ethylene-vinyl alcohol polymer (EVOH) sandwiched between two layers of Polyethylene Copolymer Resin and two layers of adhesive. This structure provides the outstanding long-term hydrostatic design strength demanded by hydronic heating applications. The outer layer of Roth X-PERT S5® also provides a protective shield for the oxygen barrier. This ensures that the radiant heating system has the best protection available against oxidation due to oxygen permeation of the piping system.
X-PERT S5® 5-LAYER PE-RT PIPE WITH OXYGEN BARRIER
Polyethylene of raised temperature (PE-RT)
No cross-linking required, no waste, no chemicals
Pioneered in Europe and actively used for over 20 years
DOWLEX™ 2344 Polyethylene Copolymer Resin
SDR-9 tubing, compatible with any fitting (including cold-expansion fitting systems)
100% recyclable material
Made in the USA
PIPES CAN BE USED FOR NON-POTABLE HOT AND COLD WATER SYSTEMS, INCLUDING:
radiant floor heating systems
radiator connections
baseboard hot water connections
heating/cooling applications
snow melt applications
Tube

O.D. (inches)

W.T. (inches)

I.D. (inches)

Weight (lb/FT)

Water Content (gal/FT)

5/16″

.430

.064

.302

.32

.0037

3/8″

.500

.070

.360

.042

.0053

1/2″

.625

.070

.485

.054

.0096

5/8″

.750

.083

.584

.076

.0139

3/4″

.875

.097

.681

.103

.0189

1″

1.125

.125

.875

.167

.0312
Find a Rep
Find your local Roth sales rep.
Brandinclair HVAC-R Sales
Notes: Atlantic Canada
---
902-397-1637
J.M. Hasick & Associates
Roth Heating Division
Roth Lubricant Division
Roth Wastewater Division
Notes: British Columbia, Yukon Territory, Alberta, Northwest Territory, Manitoba and Saskatchewan
---
250-860-3613
R. L. Deppmann
Notes: Michigan and Northern Ohio
---
800-589-6120
Sharp Environmental
Roth Heating Division
Roth Lubricant Division
Notes: Ontario and Quebec - Oil Tanks Only (Contact Flexco for other Heating Products in Quebec)
---
613-220-9987
Jeffcom
Notes: Ontario - RADIANT ONLY
---
905-658-0329
Flexco
Notes: Quebec, Canada - Radiant Product
---
450-658-9237
Mechanical Solutions NW
Alaska
Washington
Oregon
Idaho
Notes: Alaska, Washington, Oregon, Idaho
---
206-575-9001
Steffens-Shultz
Notes: Central Ohio Only (Bid/Spec)
---
614-274-5515
BoilerSource
Notes: Indiana and Northern Illinois Only (Bid/Spec)
---
847-253-1040
Behrmann Company
Notes: South Illinois Only (Bid/Spec)
---
314-631-4400
Flowtech
Notes: Northern Nevada, only
---
831-239-6297
R.M. Cotton Company
Minnesota
North Dakota
Wisconsin
South Dakota
Notes: (Only NW Wisconsin)
---
763-473-4640
Fluid Handling Inc.
Notes: (excluding NW)
---
414-358-2646
David Gooding Inc.
Delaware
Maryland
Virginia
Pennsylvania
New Jersey
Maine
New Hampshire
Rhode Island
Massachusetts
New York
Connecticut
Vermont
Notes: For the state of PA: Eastern Pennsylvania only
---
508-894-2000
Intermountain Hydronic Specialties (IHS)
Utah
Wyoming
Idaho
Nevada
Notes: Utah, Wyoming, Idaho and Eastern Nevada (Bid/Spec)
---
801-975-0227
McNevin Company
Colorado
Montana
New Mexico
Notes: Colorado, Montana and New Mexico
---
303-322-0165
Radiant Energy Distribution
---
317-353-3823
Hydronic Energy, Inc.
Notes: Iowa and Nebraska (Bid/Spec)
---
Iowa: 515-276-4935
Nebraska: 402-330-1235
Other Locations
Roth Heating Division
Roth Lubricant Division
Roth Wastewater Division
Notes: Other Locations
---
Please contact your regional sales manager.