ALULASER Radiant Tubing
The Roth ALULASER is a composite tubing consisting of an inner layer of extruded PE tubing, an inner adhesive layer, a center layer of ultrasonically welded aluminum tubing, an outer adhesive layer, and finally an outer layer of extruded PE tubing.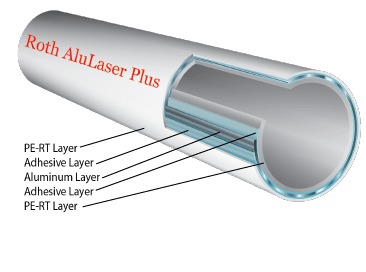 Roth AluLaser Plus
5-Layer PERT-AL-PERT Tubing
Laser-welded overlapping aluminum shield assuring complete oxygen diffusion barrier
Combines strength of metal with longevity and durability of plastic
Highest memory – easy to install
Low linear expansion – 1/10 that of PEX
Maintains shape after bending or when heated by circulating fluid
Perfect for baseboard, radiators, unit heaters, fan coil piping and radiant heating
Assortment of press fittings available
As a result of the co-extrusion process, the composite tubing provides the following advantages:
An impervious oxygen barrier
Shape retainment after bending
Reduced expansion and contraction compared to PEX only tubing
Improved burst resistance
High resistance to corrosion and to scaling from minerals dissolved in the system water
Available sizes include:
3/8″; Coil of 200′
1/2″; Coil of 300′
1/2″; Coil of 1,000′
5/8″; Coil of 300′
5/8″; Coil of 1,000′
3/4″; Coil of 300′
3/4″; Coil of 500′
1″; Coil of 100′
1″; Bag of 7 x 20′
Material Standard: Manufactured in accordance with ASTM F1282 and tested for compliance by NSF to both US and Canadian standards and marked as cNSFus-rfh. Minimum Bending Radius: No less than 5 times the tubing outside diameter. Nominal Inside Diameter: Nominal inside diameter in accordance to ASTM F1282.
Nominal Size (in)

Average I.D. (in)

Average I.D. (mm)

1/2

.46

11.70

5/8

.61

15.40

1

1.00

22.50
Find a Rep
Find your local Roth sales rep.
Brandinclair HVAC-R Sales
Notes: Atlantic Canada
---
902-397-1637
J.M. Hasick & Associates
Roth Heating Division
Roth Lubricant Division
Roth Wastewater Division
Notes: British Columbia, Yukon Territory, Alberta, Northwest Territory, Manitoba and Saskatchewan
---
250-860-3613
R. L. Deppmann
Notes: Michigan and Northern Ohio
---
800-589-6120
Sharp Environmental
Roth Heating Division
Roth Lubricant Division
Notes: Ontario and Quebec - Oil Tanks Only (Contact Flexco for other Heating Products in Quebec)
---
613-220-9987
Jeffcom
Notes: Ontario - RADIANT ONLY
---
905-658-0329
Flexco
Notes: Quebec, Canada - Radiant Product
---
450-658-9237
Mechanical Solutions NW
Alaska
Washington
Oregon
Idaho
Notes: Alaska, Washington, Oregon, Idaho
---
206-575-9001
Steffens-Shultz
Notes: Central Ohio Only (Bid/Spec)
---
614-274-5515
BoilerSource
Notes: Indiana and Northern Illinois Only (Bid/Spec)
---
847-253-1040
Behrmann Company
Notes: South Illinois Only (Bid/Spec)
---
314-631-4400
Flowtech
Notes: Northern Nevada, only
---
831-239-6297
R.M. Cotton Company
Minnesota
North Dakota
Wisconsin
South Dakota
Notes: (Only NW Wisconsin)
---
763-473-4640
Fluid Handling Inc.
Notes: (excluding NW)
---
414-358-2646
David Gooding Inc.
Delaware
Maryland
Virginia
Pennsylvania
New Jersey
Maine
New Hampshire
Rhode Island
Massachusetts
New York
Connecticut
Vermont
Notes: For the state of PA: Eastern Pennsylvania only
---
508-894-2000
Intermountain Hydronic Specialties (IHS)
Utah
Wyoming
Idaho
Nevada
Notes: Utah, Wyoming, Idaho and Eastern Nevada (Bid/Spec)
---
801-975-0227
McNevin Company
Colorado
Montana
New Mexico
Notes: Colorado, Montana and New Mexico
---
303-322-0165
Radiant Energy Distribution
---
317-353-3823
Hydronic Energy, Inc.
Notes: Iowa and Nebraska (Bid/Spec)
---
Iowa: 515-276-4935
Nebraska: 402-330-1235
Other Locations
Roth Heating Division
Roth Lubricant Division
Roth Wastewater Division
Notes: Other Locations
---
Please contact your regional sales manager.