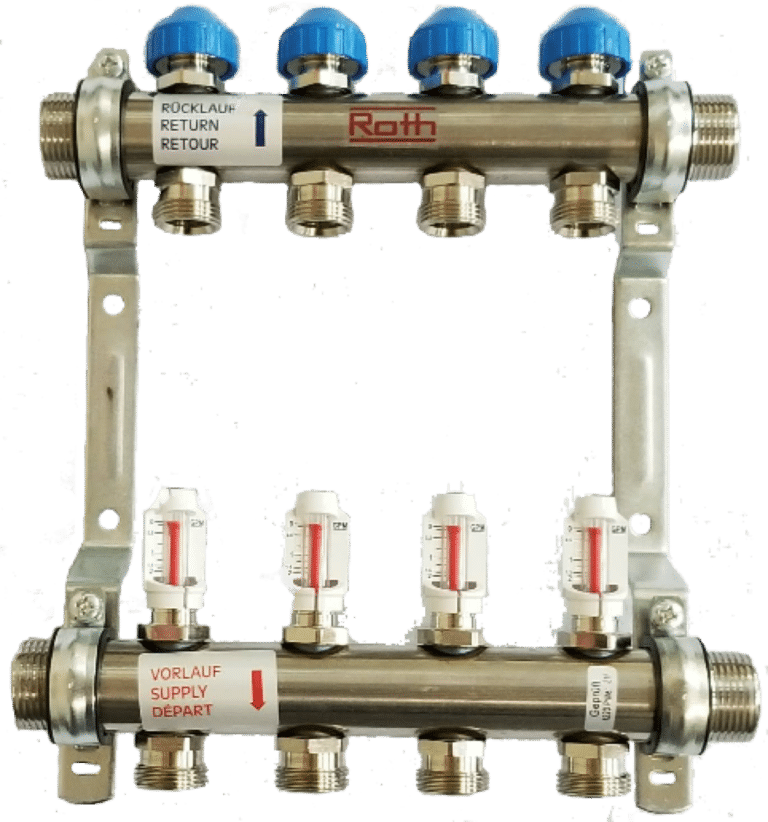 Stainless Steel Manifolds (RSS)
Constructed of "Eco" friendly, non-polished stainless steel.
Roth Stainless Steel Manifold Features
Constructed of "Eco" friendly, non-polished stainless steel
Available in 1" and 1 1/4" trunk sizes, 2 – 12 loop connections
Sets include:

Straight isolation ball valves on trunk supply and return connections with temperature gauges
Fill/drain/vent tees with 3/4" garden hose thread, 1/4 turn valve and manual (coin) vent
Flowmeters on supply manifold outlets with 0 – 2 gpm scale
Flow regulator valves on return manifold outlets with manual multi-turn operators
3/4" Euroconical compression fittings (R20) used to attach tubing to manifold inlets/outlets (sold separately)
Parameter

Value

Maximum Operating Temp.

176°F (80°C)

Minimum Operating Temp.

14°F (-10°C)

Maximum Operating Pressure

87 psi (6 bar)

Recommended Test Pressure (24 hr)

87 psi (6 bar)

Temp. Gauge Range

32°F – 176°F (0°C – 80°C)

Flowmeter Range

0 – 2gpm (0 – 7.5 lpm)
Interested in Learning More?
Roth products last longer than ever before due to the outstanding quality and the unbeatable guarantee. Interested in more information? Contact us, today!
Find a Rep
Find your local Roth sales rep.
Brandinclair HVAC-R Sales
Notes: Atlantic Canada
---
902-660-2156
J.M. Hasick & Associates
Roth Heating Division
Roth Lubricant Division
Roth Wastewater Division
Notes: British Columbia, Yukon Territory, Alberta, Northwest Territory, Manitoba and Saskatchewan
---
250-860-3613
Sharp Environmental
Roth Heating Division
Roth Lubricant Division
Notes: Ontario and Quebec
---
613-220-9987
Flexco
Notes: Quebec, Canada - Radiant Product
---
450-658-9237
Mechanical Solutions NW
Alaska
Washington
Oregon
Idaho
Notes: Alaska, Washington, Oregon, Idaho
---
206-575-9001
Steffens-Shultz
Notes: Central Ohio Only
---
614-274-5515
Roberts Mechanical Equipment Co.
Notes: Northern Ohio Only
---
(216) 365-5673
Behrmann Company
Notes: South Illinois Only
---
314-631-4400
Flowtech
Notes: Northern Nevada, only
---
831-239-6297
R.M. Cotton Company
Minnesota
North Dakota
Wisconsin
South Dakota
Notes: (Only NW Wisconsin)
---
763-473-4640
Fluid Handling Inc.
Notes: (excluding NW)
---
414-358-2646
David Gooding Inc.
Delaware
Maryland
Virginia
Pennsylvania
New Jersey
Maine
New Hampshire
Rhode Island
Massachusetts
New York
Connecticut
Vermont
Notes: Eastern Pennsylvania, Southern New Jersey, Upstate New York
---
508-894-2000
David Gooding, Inc.
Notes: Metro NY, Northern NJ
---
781-760-8199